Hammer Shaping
Five methods, one result
There are at least five different methods for shaping hammers. Why not learn all 5? In this ebook Jim shows the five methods and how you can skillfully go from one to the next, as your needs dictate. Learn how to reshape a set of hammers to 95% perfect in less than 15 minutes!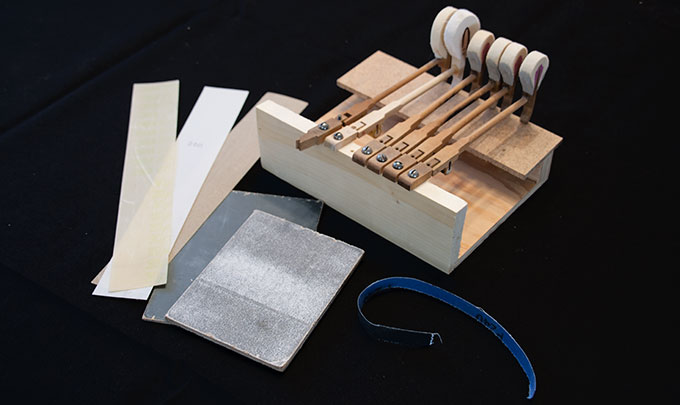 Chapter 1 - Introduction
A: Four reasons for re-shaping
B: Five methods of re-shaping
C: Tools needed
D: Preparation: Don't start "blind"
E: Follow-up: Besides looks, what did it do?
Chapter 2 - The traditional paddle method
A: Advantages/disadvantages
B: Demonstration
Chapter 3 - The traditional strip method
A: Advantages/disadvantages
B: Demonstration
Chapter 4 - The small (single hammer) strip method
A: Advantages/disadvantages
B: Demonstration
Chapter 5 - Gang filing with strips
A: Advantages/disadvantages
B: Demonstration
Chapter 6 - Gang filing with large paddles
A: Advantages/disadvantages
B: Demonstration
Chapter 7 - A "hybrid" method using the best of all methods
A: Advantages/disadvantages
B: Demonstration
Chapter 8 - Re-covering hammers and misc. tips
A: Learning from historical instruments
B: Using leather
C: Dealing with "Wish I hadn't come here!" jobs